Last update: 30/05/2022
LIFESTORY MICHIEL + UPDATES
By Godelieve and Wim , very proud parents.
(Living in Belgium)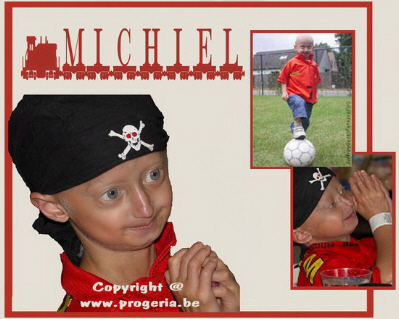 When Wim and I married, like everybody else, we wanted to build a home and have children. The time came to think about having a baby: First time expecting: yippee! However unfortunately, this went wrong. A few months later: yippee! Very glad because we were finally going to be parents. Again: had a miscarriage. Disappointment, sadness, a lot of tears. The third time was going to be the right time. Very careful. Had a great pregnancy. After a few months, the baby was still there. Everything went all right.
Michiel was born on June 13, 1998 in the hospital in Hasselt during the soccer match Belgium – Holland! Although the news about the soccer match was relayed to me during labor (I couldn't care less), the fact to finally be a mother soon was more exciting! I was in heaven when I had my son in my arms for the first time. I was on cloud nine! I could not be happier at that moment.
Wim had the same feelings: he wanted a son and if possible a soccer-player! We were "mammy" and "daddy": a child is the greatest gift one can receive in one's life. The only thing from both of us! Michiel had three patches on his face and a very dry skin on his belly, but as for the rest he was a normal baby. We were very happy indeed.
He did not eat very well and gained very little weight. At mealtime you wondered: "Is he going to eat or not?". We had been told to rub the skin on his belly with ointment, because it was too dry.
We were not really concerned, until our doctor told us to see a specialist at the university hospital in Leuven, because she had never seen someone like Michiel, who was then six months old. So we also began to worry. The specialist in Leuven saw Michiel, spoke with a few other doctors and after a short period told us not to worry. Two to three times a year we went to the same doctor, who told us each time not to worry, while in the meantime he was doing genetic research on Michiel. We got no answers to our questions.
There comes a moment when your motherly intuition tells you that something is basically wrong with your child. This lasted for about two years. Whenever he was sick, he had to go to the hospital because his weight was too low. His weight and height were below normal. He was 4 years old ( 92cm and 9 kgr.) For three years these figures did not change. You can imagine what we tried.Everything to encourage him to eat: sweets and punishments did not help. His small face was remarkable with wide-open eyes. The hair on his head became thinner and started to fall out. Finally he became bald. At that age! Something was terribly wrong. The skin became very thin. You could see right through it. He had bags under his eyes. The skin was very delicate. Blue blood veins could be seen. Everybody on the street, in the stores, looks at it. You become very unhappy. The feeling is contradictory; on one hand, as a mother, you are very happy with your child, on the other hand you hate the look of the people regarding your child. So I let him wear headgear and I even went to a doctor who promised that he could have hair grow on his head. You do all you can to help your son. Thanks to the support of family, you get out of the depression again and again.
Some time later my pediatrician told me to look at a special program on TV that evening, about a girl Sabrina, who had an illness called "Progeria", and she thought that Michiel had the same illness, because she had been studying this. I had never heard about this illness. I went home without much courage, informed my husband, my sister and a few friends to look at that program on TV. I cried and cried because there was a very great similarity between Sabrina and Michiel. We told each other: "This is what Michiel is afflicted with". We went back to the doctor in Leuven and asked him about Progeria. Each time he told us not to worry and no it was not Progeria. He told us: "Do not research it on the Internet because your brain will get the wrong impression".
But my motherly instinct was convinced. I did not want my son to have this illness of getting old prematurely. I went on the Internet and found the site of a boy called Ben, who, in the meantime has died, and there I got to know a lot about Progeria.
Literally Progeria means: "early aging". It is also known as "Hutchinson-Gilford syndrome".
Children with Progeria develop early symptoms of aging, what normally happens when you are growing old.Progeria is very rare, but appears over the whole world, no distinction as to gender, race or skin color. Worldwide, there are about 50 children suffering from this disease.Progeria is incurable. The children age in one calendar year about ten years biologically. Emotionally the children are absolutely normal, but weight and height remain low. They have a small face with big eyes. They lose their hair and become bald. The skin is very thin and translucid. The blood veins are easy to see. The skin is very weak. Only the brain is not affected: these children are very bright and intelligent. The condition makes it more tragic because they themselves feel their death coming.
They usually die before their thirteenth year, due to heart failure or artery-sclerosis. All of the symptoms of the disease described in the website fit the symptoms of Michiel. I was 90 % convinced that Michiel had Progeria. It was terrible. I cried and had a very deep depression. To know that he had this disease was difficult to accept, but knowing that he would die before his 13th year did me in. Knowing that you have to lose your child is inhumane. I wondered what God wanted with such an inhumane disease. I wrote an e-mail to the person mentioned on the website and told of my son Michiel and the similarity with Ben. I got an e-mail back that she was the mother of Ben, and she proposed to meet. I had many bad days following this e-mail. But we went to Holland to meet her.
You are in constant thought about this meeting and hope that it will turn out not to be Progeria, so that your son can live longer, a wish of every mother. After arrival, greetings. Marjet embraced me and looked at Michiel and she got tears in her eyes! Everything became very emotional. She confirmed that Michiel had Progeria. The similarity was too great. Of course, you get very depressed. You start crying and asking yourself why he has this disease. We all cried together, and I felt an emotional bond with Marjet. After many years, I finally found somebody who had experienced the same thing: the love for your child, the thought that your child will die soon. Now I could go to somebody with my questions, because in Belgium, I was totally alone. Michiel went walking with his godmother, so that Wim and I could talk freely with Marjet.
You get to see pictures of yearly reunions and you see in these photos other Progeria children, but you always see your own child through them. They all look the same. When Michiel came back, I showed him a picture and he told me "Mammy, with whom am I standing there in this picture, because I do not remember this occasion, and who is this woman in the picture next to me"? When a child of 4 years old can see the similarity, why can a doctor of the University in Leuven not see it?
Marjet has given me all the honest answers to my questions, how the illness will develop. And I appreciate that because now we are informed. When you go to the doctor now, you can inform him so that he knows what to prescribe. She also told us to get a second opinion. Back home, It was very difficult to get up in the morning, knowing that your son will die. A Very, very depressing time, to such extent that my husband told me to get over it for the sake off Michiel! He may not know what he has to expect, and we will give him the best time of his life. We discussed all this with family and finally I came to the conclusion to get on with life, which I did. Though I still have my good and bad days!
Since I had no confidence in the doctor from Leuven, we went to the hospital in Antwerp. The doctor was very compassionate, took the time to talk with Michiel and us. She diagnosed that it was Progeria. She started up a complete examination, and we had to wait. In the meantime we were in contact with two doctors in Germany, who are well known for their research on Progeria. We stayed there for four days. They told us: "your son suffers from Progeria!" Two weeks later we got confirmation from a doctor in Amsterdam that in his opinion it was Progeria. The cooperation between the doctor in Antwerp and the German doctors was very good. The doctor in Antwerp said: "I can learn something from these German doctors".
It was confirmed by so many doctors that you have to give up hope and agree with their opinion, as difficult as it may be. All this happened between September 2002 and April 2003. It was and still is a very difficult task to learn to handle this disease the proper way, the physical reactions of the body, and the negative reactions of the surrounding people. It is imperative that the child feels accepted, that it is loved. Unconditional love for these children is essential.
Since beginning a benefit by a member of the family and the publishing of an article in the local newspaper "Het Belang van Limburg" a lot of positive things happened. People no longer look at Michiel as the boy from Mars, but now call him the boy from the newspaper article. They are not afraid anymore, and they do not show any more negative reactions. Now they call out to him, greet him, shake hands, they talk with me, encourage me, and show sympathy. We are fortified by these reactions and we are very grateful. We hope that Michiel can have a few more quality years.
Some more positive facts: Wesley Sonck, famous soccer player, spontaneously, on his own, came to visit us at home after he read in the papers that Michiel wanted to become a soccer player like Sonck. He went on the soccer field to play with him, took pictures with him etc. Michiel still talks about his best friend and about his playing. Michiel was allowed to give the starting shot for the last competition game of the season. Michiel was on the field together with his friend Wesley Sonck and received applause of 24,000 fans. I cried for the good emotions toward my son. That day, Wesley Sonck received the Golden Shoe of Soccer, but he made it a day for Michiel. He thanked the fans for the award, put it down, went to Michiel, took him by the hand, gave him a kiss and told him to kick the football. If you ever read this, Wesley, thank you so much for Michiel and for us. Accept a golden kiss from us all.
Then came a difficult moment in our lives: the first session in the television studio. For the first time I saw a boy of ten years old there, Nigel, who also was a Progeria child. He was sitting there almost lifeless; there are only 5 years between the two children but the difference is enormous. Michiel was still full of life. Everybody cried of course, but luckily Marjet was also present with her calmness and peaceful demeanor. The program has been seen on national TV and the reactions were very positive. Again it took me several days to get on with life. My husband told me: "You see that five years can make a great difference. Let us give Michiel all we can while he is still healthy". And that we will do!
We went to Euro Disney in Paris (France): an incredible experience for Michiel. Michiel spoke to Mickey Mouse, Pluto, and everybody else from the Disney family. Michiel was thrilled. With open mouth he told me: "There is Snowwhite and the Dwarfs". For him everything was magical. I am happy he enjoyed himself so much for two days.
On June 13, 2003, he turned five years old. Birthday cards from many friends, with nice messages and words. The whole family was present for the occasion. A party of swimming with all his cousins and nieces, water guns and the hearty smiles of all the children. Sitting on the lap of Auntie Netteke, his lovely and dearest godmother (Michiels second mother), blowing out the candles of his birthday cake. First, all of them singing together the birthday song. His face lit up. These are all very nice memories and I hope we can give him the same for a few more years before the difficult part will come. But we should not think about it now.
I want to conclude with a sentence for Michiel and Amber, when they are going to understand it all and they can read it. "Michiel and Amber, from the depth of our heart, we want you to know that we always will love you, forever and ever. We are very happy that you have selected us as your mammy and daddy. Michiel and Amber, we love you from here to heaven and back".
Godelieve and Wim, your mummy and papa
P.S.: I have written those stories in the "I" form as their mother, but the whole text is related to the feelings of both of us, mother and father together.
UPDATE :
February 2009 :
Our Michiel is at this moment 10,5 years old. In June he becomes 11 years. A lot happened in 5,5 years. As you already know, Michiel became a big brother in 2006 of a little sweet girl, Amber. I walked on cloud nine during my pregnancy. The second best wonderful period of my life. Still I never imagined that it went wrong again. When Amber was 6 weeks old, she was diagnosed with the same disease as Michiel, namely Progeria. We went through a rough time but that is all in the past now. Finally you find a way to cope with the feelings. Ambers lifestory you can read on another page of the website.
It really is simple : we must look forward and this for our two children. A human being can be stronger than it thinks. Here I am going to update you about Michiel.
We have done some remarkable things : a voyage to Canada, visiting the real Santa Claus in Lapland, looking at a tennisgame of Justine Henin in which I received her racket, being present at some European and worldreunions of Progeriachildren, making a cruise with an tremendous ship, etc. Enjoying a lot of happy things. We have a lot of beautiful memories of it all.
Momentarily it just is a wonderful time. My children are my greatest happiness. I take them with me wherever I go, as much as I can. They love going away for the weekend or on a holiday. I can enjoy them so much. Michiel has helped me a lot with my grief over Amber. He has brighten me up thanks to his zest for life. He is a great kid and touches many hearts with his open and happy character.
With almost none expectation for the future, we're thrilled to announce that the Progeria clinical drug trial began on May 7th, 2007. Two children arrived in Boston, MA for their first of seven visits over a 2-year period, where they were given extensive tests and their first doses of the drug. An average of two families have been flying to Boston each week since then, and in October 2008, the trial became fully enrolled.
Twenty-eight (28) children from sixteen countries (Argentina, Belgium, Canada, Denmark, England, India, Israel, Italy, Japan, Mexico, Pakitan, Poland, Portugal, Romania, USA, Venezuela) are participating, ages 3 to 15 years. Children return to Children's Hospital Boston every four months, for testing and to receive new drug supply, and stay in Boston for 4-8 days each visit. While at home, their doctors keep a close watch over the children and submit monthly health reports to the Boston research team. For the duration of the trial, 1- 2 children per week will travel to Boston to participate
Our Michiel is one of them. The treatment serves to slow down the ageingprocess.
Unfortunetaly it is not that the progeriachildren can be cured.
Michiel must swallow two tablets daily with an intervening period of 12 hours (one in the morning and one in the evening).
5 years ago, Michiel was one of the youngest children with Progeria, now he ranks among the older children. How it can change. We are very proud of Michiel because he is always very brave with all the tests in the hospital. Since Michiel started with his treatment, he has grown 5 centimeters, he gets downy hair, his veins are thicker and his skin is more solid. He has no problems with side effects except diarrhoea.
As a mother these results give me a lot of hope, for him as well as for Amber and all the Progeriakids in the whole world.
5 years ago there was nothing against Progeria and yet we have a hopefull treatment.
Mai 2009 :
Yeah, the invitation for the European reunion by Gamze (of Turkish origin but living in Germany), held this year in Germany (Stuttgart), was in our mailbox and of course we have registered. We are looking forward to being reunited with the children and their families. The prospect of seeing them soon makes us very happy. Grandmother Denise and Aunt Netteke are joining us again.. Everything packed, ready to leave. Stuttgart, here we come!
Arrived in a beautiful hotel, we found out which children and families were there. Mia, Hayley, Ashanti, Claudia, Yacin, Christian, Cira-Sophie, Gamze, Niccolò, Sammy, Serena, Toon, Bjorn, Mehmet Ali, Michael and Amber were very happy to see each other again. There were also two new children : Rania and Florian. They were in the beginning feeling ill at ease in the new surroundings but that's normal. The mothers of the deceased children Sarah and Menecksche were also present. For them seeing all the children and families was obviously very emotional. Thus, the reunion could now begin.
It began with the welcome meeting. Each family was fully presented to the new families. The program could begin.
First there was the soccer game at the Mercedes-Benz Arena were Stuttgart had to play a very important match.
Then we got the press launch and picnic. This went on a horse farm where the children could sit on the horses and they went for a drive. Along the horse was a companion who also held the child. The faces of the children showed happy smiles and it was wonderful to see this. They could also brush the ponies. There were all kind of games in which they could participate, there where playthings, they all had their hands stamped with paint on a drawing and there was a tent with lots of dressing material which they could use. All kind of nice things.
Meanwhile the press had the opportunity to do an interview with the families. The picnic was very nice. It really was such a pity that it started to rain towards the end. The next day we visited the zoo. The weather was beautiful and the trip worthwhile. In the evening we enjoyed a delicious Swabian dinner together in a relaxing atmosphere.
The next day we went to 'Sensapolis', a large indoor playground where the children experienced a lot of fun. They could even defy a high climbing wall. Michael did great and he climbed up very high. Our Amber was too small and she would not do it. Then we had a lovely meal in an authentic Turkish restaurant where the service was very good and the food very tasty. This Turkish family has welcomed us enthusiastically.
Then there was a visit to the Porsche Museum on the program. We have seen lots of beautiful cars but for the men it was just that little bit more I guess. Men and cars ! Meanwhile, the children had already rehearsed for the play. We then took the bus and drove to the 'Theatre ship' where we had lunch on deck. It was Wims (the father of Michael and Amber) birthday that day and he got a large pink hat with feathers as a gift from Gerry, the father of Toontje, and he needed to keep it on all day. We still had a good laugh though.
Then came the moment of glory for the children. The show was about to begin. Everyone was seated in the audience and the play 'Pirates of Love' could begin. It is amazing how Marianne and her dance group manage the play every year and how greedy the children are to participate. You see them shine as they act as a dancer, princess or pirate accompanied by the right music, performed by Bertus. When it is Belgium's turn, Michiel, Amber, Toontje, Staf, Kamiel, Liesbeth and Aunt Netteke are standing up the stage where Michiel sings lustily at the microphone the chorus of our National Anthem : 'For King, for Freedom and for Right' with all our hands on our hearts.
There is lots of dancing, singing and jumping. The play ends each year with a song, sung by Marianne and Marjet. Here they sang 'What a Wonderful World' and we all had a difficult moment and the tears flowed abundantly. The end of the play is the starting point of the farewell party.
Especially for Wims birthday, he was treated at a performance by a belly dancer. A folklore group performed the most beautiful dances in original costumes and there was the appearance of a Michael Jackson impersonator,. At that moment the party was in full eruption. We all had such a great time till the kids got tired.
The most difficult moment of the reunion has come. It is farewell time. Luggage is ready and after breakfast the time has come. The farewell was very emotional because you do not see each other for one year and who knows what will happen in that year. We can only take solace from the fact that we had a great reunion full with a lot of memories and had the chance to meet some new friends (Florian and Rania and their families).
Dear friends, stay all well and until next time.
Gamze, Fatma, Metin, Dilek, Ali, Marjet, Esma, Can, and her two beautiful daughters and the complete theatregroup : THANK YOU for the wonderful time.
6. – 12. August 2010 : Hayley's invitation for the Progeriareunion :
5 August 2010
This time, our story begins one day earlier because we have invited our Dutch friend Bjorn and his family to spend the night before the trip to our home. They arrived late in the afternoon in Diepenbeek where them a warm welcome awaits. Besides Michiel, Amber, Godelieve and Wim are Aunt Netteke (they are pretty much flat hugged by her!), Franky her husband, Daisy (her daughter), David (Daisy's Boyfriend) and Jordy (her son) in the house. Bjorn responds enthusiastically to be reunited with his great friend Michiel. Anika and Sieta feel quickly at home thanks to Amber who is, as always, the sunshine in the house! Wim takes the course of the journey of tomorrow through with us all, while Godelieve repeatedly and restless runs through the living room with a mysterious package. Bjorn's mom is very surprised that this beautiful gift is for her upcoming birthday. The cover shows a beautiful red thick digitally photo album, created by Aunt Netteke, of our trip to Orlando last year. The whole group got out to have dinner at a local brasserie. The Belgian fries tasted delicious! After dessert, ice cream with a surprise, it's already late and time to go asleep because we needed to got up early the next morning (6.00 AM). Anika slept wonderfully in the waterbed of Michiel. Bjorn shares the sleeping couch with Michiel. They also slept very well.
6 August 2010
We drove this morning to the train station of Diepenbeek. From there we stepped around 8.00 with amber, Michiel, Wim, Godelieve, aunt Netteke (godmother of Michiel) and Daisy (godmother of Amber and daughter of aunt Netteke) on the train to Brussels. Also Denise (the granny of Michiel and Amber) joins the travel companionship. This first part of the travel lasts about an hour and a half. In Brussels we meet Toontje, his both brothers Staf and Kamiel and their parents Gerry and Liesbeth.
Now we are complete for travelling together. As passengers, they have given us preferential treatment, at getting in the Eurostar (high speed train). With the necessary effort we find our seats, which unfortunately not always lie beside each other. A nice Ms has been prepared to change the seats so that Bjorn, Anika and Sieta sat beside their father and mother.
Two hours later, but for us still one hour earlier (Belgium), we arrived in London. There we changed of train to our final destination 'Ashford'. Once arrived in Ashford, there are a set of four taxi's waiting for our companionship. Marcel does an attempt to steps in at the right-hand side, yet realises he has to think on his English this week because the wheel of the car sits at the right-hand side and that you as a passenger must get in therefore at the left-hand side!
In no time we are at the hotel. It's nice being reunited with the other families. In total 16 children with Progeria and their families participate at this European meeting. The countries of origine are United Kingdom (3), Belgium (3), the Netherlands (1), Germany (2), Denmark (1), Italy (4), Portugal (1) and France (1).
Newcomer is Harry, who has an atypical form of Progeria and as a result of this was correctly diagnosed at an advanced age. Also there are a number of mothers of children who have died in the course of years. Even Lisi, the mother of Sarah († 21 July 2008), travelled from Austria just to see us all. Of course also the dutch Marjet, mother of Ben († 1993) and founder of the Progeria Family Circle, and her daughter Janneke are there. Furthermore Marianne of dancing school 'MG Dance' will ensure the interpretation of the stage play, assisted by her son Peter (light and sound), Bertus (music), Marjet, Janneke and the other volunteers Tschaiko, Micael (also translator Portuguese, Italian and French), Yuna, Roos, Daisy and aunt Netteke.
Since we all arrived with a hungry stomach, we are glad with offered sandwichpoints and French fries. For us all a strange combination, but today it tastes deliciously! Then we go to our hotel chambers. The hotel chambers are entirely fine! After the diner, all participants of this progeriameeting, can go to a separate room in the hotel (only available for us). They play music and children are dancing. 'Musical chairs' turns out to be the most popular game among the children and parents and is played repeatedly with the necessary hilarity! Harry is a star in imitating Michael Jackson, but also with Staf and Michiel, this is a favorite. Bjorn sang his favorite song 'I can't help myself' from the Kelly Family at the end of the evening. Going to bed, he told his parents that it was a big moment for him singing this song and that he liked it very much that the Belgians waved at the music during it.
7 August 2010
After a delicious breakfast today stands 'Fun, Games, Arts & Crafts' on the programme. Behind in the garden of the hotel, there were standig two super-large playcastles / playhouses, a slide and a goal for our companionship. But unfortunately… it is a traditional English weather this morning meaning rain, rain and once more rain! Fortunately indoors also is much going on. The children make dream catchers, putting up make up and provide themselves with mass tattoos. Outside is standing a splendid red Ferrari with of course, as usual here, also the wheel at the right-hand side! Michiel, Daisy, Anika and a lot of others make even time to go along for a ride, but continues afterwards with making pretty handicrafts.
Finally they discover in the room beside a real popcorn machine, spun suggar and also the fruit and candy to stick in the chocolate fountain. All the ingredients for a real children's party.
Bjorn chooses with some other boys to play some soccer. The ice-cream vendor comes along and the children can eat as much ice as they want. Almost nobody has an appetite for the sandwiches that we get as a late lunch, so much sweets has been eating this morning. In meantime that the children are going to practice for the stage play with Marianne and co, the parents are talking in the foyer under the joy of a drink! At the evening the children are playing outside. There also is a stand were we all can eat fish and chips in open air. When it becomes colder, we go inside and once again it is time for the musical chairs.
8 August 2010
Today it is Kamiel's (youngest brother of Toontje) and Amerigo's (father of Sammy) birthday! We surprise Kamiel at the breakfast with some presents. We spend this day in 'Port Lympne Wildlife Park'. There the daredevils can let a bird spider walk over their hands and let crawling a snake around their necks. Bjorn and Michiel are no daredevils for this and they pass. Anika and Daisy find the offer nevertheless quite interesting! During the safari excursion 'African Experience', all over the extended domain of Port Lympne, we stand eye in eye with among other things giraffes, zebra's, antelopes and ostriches. Here one even can rent a pile house with a view to this splendid landscape with animals! We also see a leopard, elephants, bizons, rhinoceroses, przewalskihorses and monkeys. Afterwards we enjoy a delicious lunch. The children follow a workshop djembé (African drum) by a very enthusiastic mister with African roots. A very original activity for this group of splendid children. While the parents sit in a pavement, the children have a great time at the playground. Then it is time to return to the hotel, so we all can go for a swim before joining for diner.
After dinner, the children practice for the stage play. They have a lot of trouble keeping secret wich part they are going to play. They enjoy, that's a fact. Then we all come together to celebrate the anniversaries of Kamiel and Amerigo. The cake of Kamiel comes in on the music of the famous Belgian group 'K3'. The coloured balloons and dancing people are making it a real anniversary party! Then Amerigo is next. "Fuliculi Fulicula" was hilarious been sung to him by both male and female dressed volunteers. There also is a delicious cake for him to share with the rest. The party ends about 23.00 hour and everyone is enjoying this time together. In spite of all hullabaloo and noice, the hotel staff remains friendly and we have a wonderful time in this hotel.
9 August 2010
Also this day we have another birthdaygirl. Today Teresa becomes 12 year. And of course we also got a present for her as well. All the mothers may go shopping this morning at 'Ashord Retail Outlet Shopping Center'. We start with a glass of champagne and those who want even get a recommendation of a color counsellor. The lady in question has difficulties with some ladies who not always agree with her advice. Godelieve, Daisy and aunt Netteke of course buy presents for Michiel and Amber. Daisy succeeds there wonderfully well in buying new shoes.
As godmother of Amber, Daisy also wants to buy a gift for her and yes, she finds some sneakers of 'Hello Kitty', finished with pink. Amber loved them so much that she wore them the whole week.
Meantime in the hotel, the fathers all went swimming with their kids. Also they all played in the backyard of the hotel.
Once the mum's are returned, the dad's leave for a guided tour at the Faversham Brewery, called 'Sheperd Neame', founded in 1698 and by that, the oldest beer brewery of United Kingdom.
As a part of the explanation they can taste `grains and hops`, but the taste of that last proves to be so terrible that they are glad to get a beer. After tasting a triad of different types, they may choose three bottles from the whole beer assortment and take it with them as a present.
In the meantime, the children have their photographs taken by Legends Photography. They are beautifully dressed as knight, pirate or elf and for each family was one picture. The photographer has also a lot of decoration materials and this, together with his way of adapting the picture, creates some wonderful fairy-tale pictures.
At night the fathers meet us at another hotel for the Hog Roast, obviously a specialty in the matter of meat preparation, yet we foreigners (Belgians, French's, the Netherlands …) find this meat strange. The dessert is very funny, since this is the anniversary cake for Teresa. Teresa was brought in by the team of the play after singing a funny Italian child song for her.
10 August 2010
Today Bjorn becomes awake with considerable muscular pain. He can't walk so his parents decide to take him along in the stroller to breakfast. He doesn't eat a thing and indicates he has stomach cramps.
Once he vomited, his parents think he is going to be a little bit better. Briefly for departure with the bus, he is sick again. His father Marcel decides to stay in the hotel for the day instead of participating the program. His mum and sisters go with the rest of the companionship to Leeds Castle. The adults visit the castle while the children have to go painting. We all meet again for an excellent lunch in one of the gardens at the castle. The children can play and enjoy, a real princess and a knight visit them and photographs can be taken together with them. Also they are spoiled with a puzzle book and dinosaur cuddly toy. Hereafter the children will practice their stage play while the parents talk with each other and go for a walk.
Back at the hotel turns out that Bjorn is still sick. He has vomited all day and in spite of his attempt to drink, dehydration lies around the corner. The hospital in Ashford receives a call and a short while later he goes to the William Harvey Hospital. There he gets all kind of researches and his infusion. Fortunately his father may stay with him in the same room overnight. All children are missing Bjorn.
11 August 2010
And again today we have a birthday girl. Mia reaches 4 years of age and she also got a present from us. After breakfast, we have general repetition of the play. Anika and Sieta chooses however to go with their mummy to the hospital for visiting Bjorn. Although the night has been difficult for him, Bjorn says he is feeling a little bit better today. Marcel returns to the hotel to refresh himself while Jolande stays with Bjorn. Jolande has a conversation with the paediatrician who indicates that Bjorn still has to remain in the hospital for a number of days. She tells him that they have the intention to take Bjorn home tomorrow, back to the Netherlands. Although yet is not clear what he has, they started with giving him antibiotics needles.
In the meantime the programme of the progeriameeting keeps turning. Today the rest of the group goes to the park and there is an occasion of making a ride in the back of a Hummer-limousine. Since the weather starts to change and the children are getting cold, the organisation decides to return to the hotel where the provided picnic of the park will be consumed. Afterwards the children prepare themselves for the stage play. Bjorn realises he can't join the group and he tells his mum that he is sad by that.
He trusts his mummy that he would be the policeman. According to him he really had a super role! The father of Toontje and the father of Michiel and Amber are going to try to make a record of the show, so he can watch it back home. Luckily Marcel can be there to watch his girls Sieta and Anika and the rest of the play so he can tell Jolande and Bjorn later all about it.
The tale takes place in a place where the elves, princesses, dancers, pirates, streetdancers, Snow White and other fairy tale characters from the several countries delicious lie asleep. Country by country they are touched by the stick of the Fairy Queen Hayley while Michiel in the meantime sings the sung "Wake up, wake up, you little girl/boy, follow me to the Garden of Dreams. Wake up, wake up, you little girl/boy, follow me to …. Italy" etc. and this for each country. Together they stand for the wonderful "Garden of Dreams" where 2 splendid garden guards (Janneke and Yuna) stand who keep guard over the gardener (Tschaiko) who sleeps already for thousand years.
The large giant (Micael) let everyone on turn, flying by air, enter the gate to the Garden of Dreams whereas the children are presented to the present public, dream further.
Each thousand years there must be chosen a new gardener. Fairy Queen Hayley dabs at every child of each country to let them awake again so they can do what they dream about. Harry, Michiel, Jacob and José Jr. are street- and break dancers and do their dance steps on the music of Michael Jackson. Anika and Sieta together do a Spanish dance. Charlotte and Ruby dance enthusiastically on their music. Jesper does the Macarena. Gamze and Claudia are dancers who dance on gentle soft music just like Teresa and Serena. Toontje is a princess who dances on the music of K3. Florian and Manon, the large giant and Can are dancing willingly together. And our Amber, as Snow White, gave the bests of herself. She danced like a real fairy and threw a big kiss to the public and everyone in public was saying `Oh". From time to time the gardener becomes gently awake and dances on the music with some children to fall nevertheless asleep.
But oh dear, as Sammy as a joker wants to appear it turns out that his harmonica has been stolen! The aid of the police force (played by Jesper because of the hospitalization of Bjorn) is called in, whereupon the robber (played by Staf) already fast could be hold in a firm grasp. Sammy recovers his harmonica and plays a lively tune! All fairy tale characters are now awake. Except Kamiel alias Superman, who has fallen deliciously asleep at his mummy's lap. Christian which saw its large role as Ninja going in achievement, had laid on bed and has overslept himself and missed his performance. And yes, finally our gardener fully awakes. A new gardener must sleep now for thousand years and that will be the large giant.
But before he wants to this, he wants to dance and sing with all children for little Mia, who can stand especially today entirely in the center of the interest because of her 4th anniversary! The play ends after the performance of Michiel, who sings "You never walk alone" at the mike accompanied of Bertus at the piano. Tears were fallen in the crowd because tomorrow is taking goodbye. The farewell party can start then. There is dancing, laughing, singing, jumping, …. A wonderful farewellparty.
12 August 2010
And then it is time to go home… Marcel stayed in the hospital with Bjorn. They can be picked up at the hospital to return home but once in the Netherlands he immediately must go to the hospital. All luggages have been caught. We obtain extra drinks, take emotional farewell of our friends and then we leave. Dearest friends, please stay healthy and hopefully till next year! Thank you Mark, Kerry, Hayley, Ruby, Louis, Charlotte, Darren for the wonderful time you have given us.
Our companionship again needs four taxi's to bring us to the train station. The connections are smoothly and the trip goes well. In the Eurostar appears however that our second class places already are given to other people so they have been booked twice. Aunt Netteke quotes that the whole group must remain complete since there are some children with a sickness and we all ensure each other. The conductor requests us pleasantly to move to a first class railway carriage (without additional payment). The children amuse themselves with playing a game and looking at the pictures on the laptop of Wim. Bjorn is sleeping on the couch. In Brussels we take goodbye of Toontje and his family and in Diepenbeek of Bjorn, Anika, Sieta, Marcel and Jolande. It was nice travelling all together. Although Bjorn hast missed the last days of the meeting, there are enough memories to look back at the progeriameeting with a positive feeling.
13 August 2010
Bjorn has stayed in the hospital in the Netherlands for a few more days. Appeared that he had a virus. We are glad to hear that he is healthy again. Michiel and Amber have rested this day.
14 August 2010
On Saturday 14. August Wim, Godelieve, Michiel and Amber had to leave from Zaventem to Boston for the treatment.
Treatment serves for:
to develop fat cells better.
to improve life quality.
to strengthen heart- and blood barrels.
to slow down the ageing process.
Here following checkups are conducted: Length, weight and blood pressures measure, cardiogram, blood purchase by means of catheter, oxygen quality in blood measures, and so much more.
From the examinations appears that the physique as well as the joints of Michiel regarding to six months ago, has gone a step back but that is something that we noticed ourselves. It is not the case that we now are in panic or that his situation is dramatic. He doesn't play longer soccer and he has always pain at the underside of his feet.
And now we are waiting at a great moment again in Michiel's life …………..
his first school day in the secondary education on 1 September 2010.
September 2010 :
Michael has began a new phase in his life. He started the first day of his secondary education. He was pretty nervous about what would come or what to expect; how his fellow students would stand opposite him and the adaption to another teacher for each lesson, etc. When we went to the school for the first time to subscribe him, there were all those big boys and girls who where coming towards us and we looked at each other with astonished eyes. He is only 1.10 high! Are they going to run him down? I was as nervous as he was. I drove him with the car to the school and in my opinion it took a long time before I could go to get him back. But he was very positive. Everyone recognized him and they all shouted his name and waved at him. The students and teachers were all OK. The schoolboard was also very willing to cooperate in every way. He does like to go to school but for him the homework is too much (as for many students) but he makes it, even if it is with a grumble. He saw that the other students wanted to ask him something but they dared not. Then he went to his class teacher and mentioned this to her. He asked if it would be allowed that he got an hour to tell them about his illness and she was very happy with this. So he told them his story and everything he wanted to share with them and he has given them the opportunity to ask questions which he answered honestly. His classmates appreciated this and the teacher told me that it was very quiet in class while he was telling about it. Meanwhile he did his best and came home with his first report. He had reached 74% and we were very proud of him. Throughout the school year he kept these figures and at the end of June he ended his school year with 74% so we were very satisfied. The class teacher told us that Michiel sat in a class were all the students hung together. The togetherness and friendship was a beautiful lesson between 'normal children without handicaps' and our Michiel. They helped him where they could and when he was ill for even a few days, they came and visited him, send him text messages, etc. He had a very good influence on others. It had been a long time that she had such a class of students. She mentioned that the world would be a lot prettier if there were more boys like 'Michiel' by which she meant his optimistic nature and not his illness of course. Meanwhile, the adolescence began what we thought was not possible with a progeria child.
Spring 2011 :
He dreams about the same things as normal children / adolescents: friendship, having a girlfriend/sweetheart, Love, appearance (his looks), etc. However, he has been seriously downhearted for several weeks: anger towards his illness, not wanting to die, thinking about the things what awaits him, anxious because he's already 13 years, etc. Because of his optimistic nature and his joy and the love of his parents, sister, family and friends he has brightened up. Still if I think about all that is going through my mind sometimes and I am having difficulties with it; what must go through his mind; after all he is only a child of 13 ! Michiel loves his sister Amber truly dearly. He takes care of her, he plays with her and he is a great example for her and everything he does, she copycats. He finds his fate bad but more worse that his sister awaits the same fate. It's up to us to remain positive and repress the negativity but that is not always easy.
02.04.2011 – 04.04.2011 :
At last the big day arrived. We all had so looked forward to it. Our joint trip to Disneyland Paris. Thanks to a benefit from Hilde Vautmans and Pascy Monette, there was an amount raised for a trip to Disneyland Paris in France. Mats and family, Amber + Michiel and family, Toontje and family, Bjorn and family, Aunt Netteke and family were packed and ready to go for a three days and two nights trip of staying in each others companionship. After some troubles (two dads were on the train to Brussels while two mothers and their children were still on the platform in Hasselt), we finally took off with a group of 23 persons with the speed train direct to the park. We stayed in the "Newport Bay Club. The boys and dads loved to do all the tough things and attractions (Hollywood Tower of Terror) so they went with a group to the Walt Disney Studios", while the girls and the moms enjoyed the Disney characters such as the Disney Princesses, It's a Small World (in the boats enjoying all this beauty), Peter Pan, Pinocchio, etc.. The main attraction for all the children was, of course, the Disney Parade. We prearranged some places and hours were we all came together to tell each other what we had seen. In the evening we all consumed dinner together and had fun. Everyone has enjoyed and we had the time of our live. It was an experience to see Toontje's head turning from left to right and waving with his finger while he shouted: "Oh, look, look there!" We have taken beautiful pictures and we have a lot of memories that we shall cherish.
29.05.2011 : Confirmation:
This day, Michiel has done his Confirmation, together with his classmates. We have kept the celebration at home with a nice barbecue and dessert buffet and of course, with plenty enough to drink. He has chosen his clothes himselve and he knew what he wanted. We have only been to two stores and in the second one, he was immediately succeeded with everything. He found the jacket very cool and then the rest followed. He loved that he really looked like a tough guy and he has received lots of compliments with his successful outfit. He did not want to stand in the front rank of the church only because he was smaller than the others so he was allowed to go and have a seat on the third line in the church. It was a beautiful Mass, and when he was formed, his godmother, his godfather, his grandmother and Amber were standing around him, a very beautiful moment. I, the mother, sat in a wheelchair (injured my leg / was in plaster) and it was too difficult to move through the crowd with this wheelchair, but we all enjoyed the mass. Angelo has done Michiel a big favor by playing some music on his accordion and the homemade Limoncello by Anne-Marie went in like sweet humble pie. Simply, a beautiful day which we all enjoyed.
September 2011 :
The school has started again. Michael now sits in the secondary direction "Social Engineering skills". Because he has been given a special permission, he follows the school as a "free student". This means that he doesn't have to take exams and if he doesn't feel well, he may stay at home. He yet always must get good results at majors.
On Saturday the 3 September, Michiel notices that it looks like he has a mosquito bite because he feels something on his leg. We saw nothing and he didn't complained further about it. On Monday, the physiotherapist notices that Michiel his leg is very red and feels hot and swollen. She doesn't do anything and tells us to go to the doctor. She thinks he has 'Phlebitis'. Straight away I went to the GP and the children's expert and he was indeed diagnosed with 'Phlebitis'. He immediately began with a course of antibiotics and on Wednesday he had to go to hospital. They had to see if the blood clot in the vein of his legs was gone. The drugs had done their work well because the clot was indeed gone. Michael was relieved because he was worried for a few days.
15.09.2011 :
Our Michiel is as far as mobility / agility declined. He mainly suffers from stiffness in his joints. He has repeatedly had a dislocated shoulder and has also become more frightened because of this. During some time he has left the soccer team, he had to stop playing actively as a team. It took too much effort of his body + the power of the much larger and broader boys of his age versus him was enormous. He needed to be careful and the risks were too large for injuries. Fortunately, he still can enjoy playing soccer with his friends and as a fan cheering for his favorite soccer team, "KRC Genk".
He still plays tennis once a week to maintain a bit of condition. He also is following a course of playing the guitar. This is something he can do sitting down and not requires much physical effort. He sits almost daily in the jacuzzi / pool at home to keep his muscles flexible, and he gets daily (Monday to Friday) physiotherapy. For him, this physical therapy is very important as he almost daily has pain in his neck and back, but especially at his feet. Because he has no subcutaneous fat, he literally stands on his bones. We too, his parents, must do exercises daily with him. You just notice that his physical limitations grow.
At school, with reading or watching television, Michiel wears glasses.
We have bought an electrical support (battery) on his bike (at his size), and since he has this just before the summer began, his world is again a little bit larger. Riding his bike became too heavy and he had to make too much effort. He couldn't keep up the tempo of his friends. Now he can ride again with his friends to school and back.
The mobility of Michiel's friend Toontje who also suffers from the disease, is even worse than his. He can only walk a few steps (10 at most). He always must be carried around or has to sit in the stroller. At school they have made especially for him a kind of baby-walker and when he sits in it; he is the king because his world becomes larger too and he can go for a voyage of discovery.
Although both children had to lose on their mobility, they continue to love live and they seeze every day. Hat off for these children.
07.10.2011
Here are some questions students often ask and Michiels answers :
What is are your favorite color ? Blue, white, orange, purple
Which activities / sports do you prefer ? Tennis, soccer
Which are your favourite subjects at school ? Cooking
Which subject do you less like at school ? French class
What do you love to eat ? Fries, steak at the Wok
Is there something you don't eat ? Brussels Sprouts
Which music do you prefer ? Popmusic
Have you got an idol (music) ? : Bruno Mars
27.10.2011 – 01.11.2011 : Ashford (Engeland)
Mark and Charlotte (father and sister of Hayley) have organised this second English reunion.  It was awesome seeing all our friends and their families again.
Thank you English people, we love you! You did it again for the second time!
14.12.2011 : Christian, R.I.P. :
Today we received the sad news that Christian, 14 years old, from Germany was deceased. He had been sick for a while and he suffered excruciating pain. His heart could no more. Michiel absolutely wanted to go to his funeral, and so it happened. So he could pay his respect on his way.  Christian, dear boy, we will miss you ……
24 Mai 2012 : R.I.P. Dean (13.7.1991 – 24.5.2012)
During last years reunion we learned to know Dean.  He was 20 years old; had his driving license and lived together with his girl friend.  He gave all our children hope again. Today we were told that he was deceased. The news of his death was totally unexpected and has left us in blank amazement … Dean, you were one of us. Thank you that we could meet you. You were a unique person and will remain forever in our memories!
June 2012 :
Michael celebrates his 14th birthday on 13 June 2012 and as always, it was celebrated with a great party.
Michael closes his schoolyear with a result of 72%. He will be going in September to the 3rd secondary.
04.11.2012 – Serena, a new Star in Heaven …  (19.02.2000 – 04.11.2012)
Dear Serena, this morning we heard the sad news that you are deceased last night (04/11/2012). So unexpectedly.  We had not seen it coming and we all are the whole day sick. We cann't think of anything else. You were so sweet and had such a mischievous look in your eyes and with your radiant smile. You're only 12 years old. Dear Serena, it was an honor to know you. You will remain in our hearts and in our minds. We will all miss you. For the last time I tell you what we always said to each other: "Ti amo, ti amo, ti amo".  Another bright star, gone to soon!
11.11.2012 : How is Michiel doing?
At one year, there are now 3 deceased fellow-sufferers. Any death of a child that you know for years hurts but brings you a lot closer to the reality, which stands waiting for us as well. Our fear grew stronger with this news.  The kids are so young and innocent. However, each time someone dies, you must give this a place and find the courage to fight back en go forward.
How hard fate may strike, we know as no other. I can not say that Michiel is disabled or ill. He always says: "I'm not sick, I have a disease." He leads a pretty normal life. We rase him up that he should try to work independently and try everything himself first. If it does not go, then we help him, of course. Meanwhile, Michael knows his body and its limits/boundaries, and he knows what he can up to.
"Always make the best of Life" and "Seize the day" : that is his motto!   Allthough his appearance on the outside and inside his body things changes,  his inner fire and his zest for life are as yet still not extinguished and we are very happy about that.
He is a bright young man who enjoys life.
In terms of health, we may certainly not complaining. He has problems with his knee and hip joints / arthritis / occasional higher blood pressure but we should not complain. He does very well.
24/12/2012:
We are just back from Boston and had very good news about Michiel and Amber. We didn't receive any update about the cure, but all tests were very good. The MRI scan showed that their brains are still intact. They have no hidden brain attacks (nor Michiel nor Amber).  They were very positive about the overall condition of them both.
We also asked them if they could do anything to help Amber with her hips.  She has a lot more problems with her hips then Michiel.  We know what this can cause in the future.  But there is no cure or anything to prevent this.
25/12/2012 :
We wish you a Merry Christmas and a Happy New Year !
26/12/2012: R.I.P. Azedine:
Our Moroccan friend Azedine deceased on Wednesday, 26 of December at the age of 20 after a fatal accident. We had the pleasure to meet him several times on the World progeriameetings in America of the Sunshine Foundation. Azedine, you were a special boy! Rest in peace …
01.03.2013:
The last day of February is 'International Rare Disease Day'. Otto-Jan of the program 'Hammer Time', Studio Brussel, invited Michiel and Stef because they both suffer from a rare disease / have a disorder.
As a D.J. Michiel enjoyed himself and said afterwards that this was something he wanted to do every day: working in a studio and fully engaging with music.
22.06.2013 :
Michiel, Amber and Toon have already flown before but it is the first time they may sit in a pleasure aircraft next to the pilot.  Today, they were pilot for one day. They were all invited by 'Aero Club Keiheuvel at Balen' for their first 'Fly For Charity day'. Their purpose is to organize such a day twice a year for children with a disorder.  Toon found it very exciting but because of the wind,  subsidence occured repeatedly. Michiel and Amber came to like it and flew one more time with it. A big thanks to everyone who has contributed at this beautiful day because the kids had a good day and really enjoyed.
28.04.2014 : Rust zacht, lieve Teresa:
One of us who has last her battle against Progeria.
09.08.1998 – 28.04.2014
Those we love, don't go away.
They walk beside us, every day.
Unseen, unheard, but always here.
Still loved, still missed, still very dear.
Rest in peace dear friend.
12.07.2014 : Beachland (festival)
My DJ-adventure at "Beachland".  It was fucking awesome!
24.07.2014 – 28.07.2014 : Tomorrowland + Dreamville:
Big surprise for my 16th Birthday.  Thanks to Daisy (my niece) my biggest wish came true.  She got me into Tomorrowland + Dreamville during 5 days in her companion as well as that from David, her boyfriend. It was amazing – awesome – people from all over the world united – the vibes – the spirit – the people – the bands – the asmosphere – the companion – the weather – the fun ….. F A N T A S T I C.
~You can dream about it. Or you can go out and make it happen!  ~
07.08.2014 – 12.08.2014 :
During this period, we were offered a wonderful get-together in Denmark. It has been an amazing experience.
Children's Hospital Boston – 23.08.2014 – 31.08.2014
Michiel and Amber, from Belgium, are proud of their trophies for their participation in The Progeria Research Foundation Clinical Trial! The siblings were in Boston for their most recent trial visit.
21.09.2014 – 28.09.2014 – Reünie in Turkije (Istanbul)
As of July 1, 2017, you can follow me for updates, pictures, videos, etc.:
Michiels Facebookpage : Ik ben Michiel
Michiel: Instagram : Click here
Michiel: You Tube : Click here
Michiel: TikTok : Click here
Michiel: Twitch : so come hang out in my chat : Click here