Last update: 30/05/2022
IDOLS PARADE
Becoming a soccer player is one of my dreams.
A meeting with Wesley Sonck at my home has already come true.
I also have had the chance to meet him
at his new soccer team "Ajax" at "De Kuip" (The Netherlands) .
See me standing next to my SUPERHERO !
Michiel & Standaard Luik
I have had the oppertunity to meet
Michel Preud'Homme and his team "Standaard-Luik".
It took me some time to get used to the attention of the famous soccer players.
I wanted to kick a ball so I said to them "let us play soccer".
I had the best time.
Michiel, K3, The New Megaboys & Peter
We have met the "New Megaboys" several times
and they are fond of Michiel.
He has a part in their first videoclip. It is very trendy.
Meeting Peter and K3 was also special.
Michiel, Natalia, Brahim and Peter
Wim, Brahim and Natalia, 3 Idols, sang lovingly for us.
There was a pleasant atmosphere.
I shook hands with them and we took some pictures.
I love the headscarf of Brahim
Michiel, Sergio, Clown Argo and Wim Verstraeten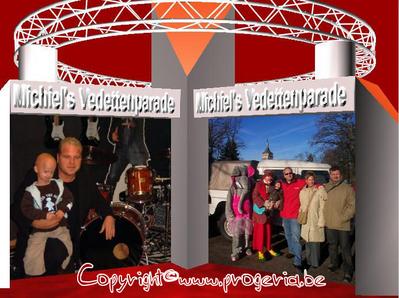 With Sergio I had some lovely time.
And also clown Argo, Flappie & Wim Verstraeten
were very sweet to me.
The trip by balloon & meeting with Sergio
were a grand joy for me.
Thanks to everyone. You made me very happy.
Michiel with Justine Henin and Kim Clijsters
Kim Clijsters is very nice, sweet and very spontaneous.
She wanted to play tennis with me.
But I saw Lei (her daddy = soccer player)
And I preferred playing soccer with him.
With the train to Wimbledon
because Justine Henin-Dardenne should play the finals.
I encouraged her but she lost
but still I got her tennis racket.
I found it a large honour and pleasure
to meet such a great leadies.